v2020.7
- released 22. April 2020
The all new Timist
This update brings a brand new look to Timist and the biggest redesign since the apps inception. An update so big, it's almost easier to talk about what hasn't changed.
Timist now has an all new tab-bar based interface. More modern and a better usability, all while keeping the great bottom navigation and making it even more versatile. There are now four main areas:
Timers: All of your timers (the old main screen, but now with a side panel and a preview for what's coming next)
Timeline: all of your sessions
Analytics: Beautiful charts, providing you with deep insights into your data
Settings: Well, it's settings. But here are the global sessions and breaks.
The biggest addition is the Timeline, showing you all of your sessions in reverse chronological order.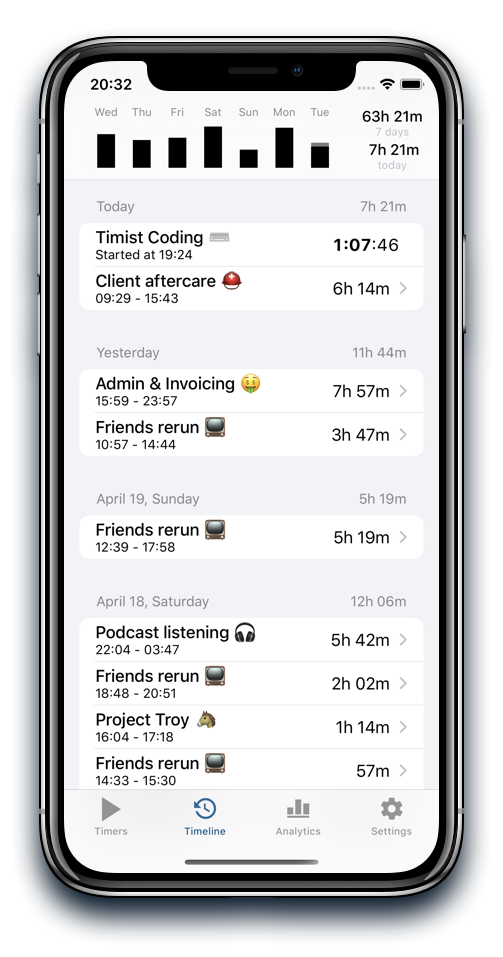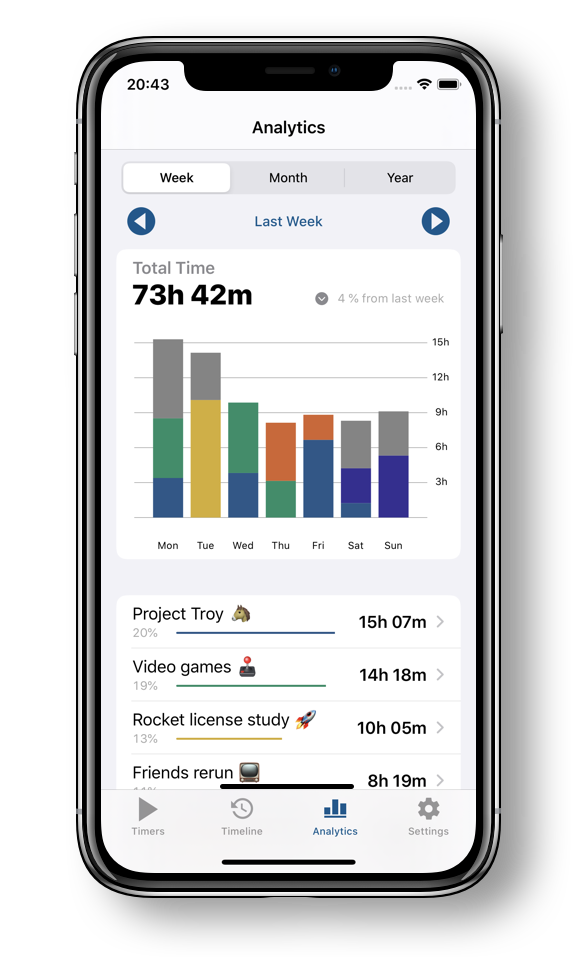 The all new timeline view and the updated analytics screen.
New
All new look - not just the tab bar, but a visual look more in line with Apple's current direction.
The Timeline: All of your sessions, all the way back to the beginning of time.
The new timers view: All of your timers, with a slick side panel to switch to your archived ones (and a preview of what's coming).
First time users will have an easier time thanks to a better user education when they arrive in an empty app.
Improved
The calendar view now comes with massive performance improvements and greatly speeds up the analytics. No more waiting on beautiful charts.
The currently running timer now blinks in the timer view. Blinky blink.
The analytics view is also in a brand new design and now shows changes to the previous time frame (e.g. how much more time you have tracked this week).
Changed the display of durations in the app. Gone are the superscript hours and minutes.
Fixed
Fixed an issue where the Sessions and Breaks for an individual timer would not display correctly.
Fixed an issue where on deleting a timer, another timer would be stopped.
Fixed an issue where notification actions would not correctly trigger in the app (e.g. tapping "Start timer" on a break elapsed notification).
Grass was growing a wee(d) bit to fast in the last update. It slowed down now.
Fixed an error where intialising a break on restart of the app would show the wrong duration.
Fixed an issue where the mail composition view in the feedback section could not be dismissed. It was missing a delegate.