v2019.4
- released 12. October 2019
Welcome to the Dark Side
Thanks to iOS 13, Timist now has a beautiful dark mode that is easier on the eyes - for all the night owls, and those who check on their hours after a long day of work. And of course for everyone else.
Also, there is a new Calendar View, which shows how your sessions are spread across your day.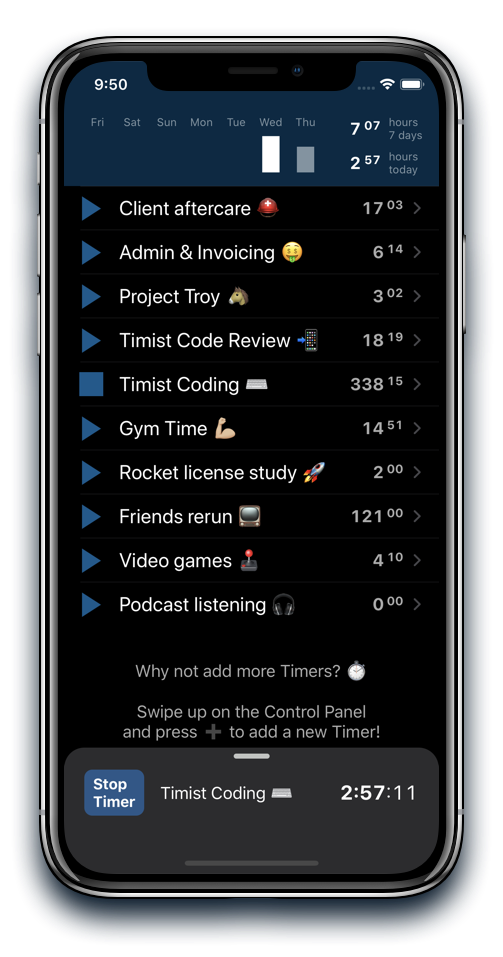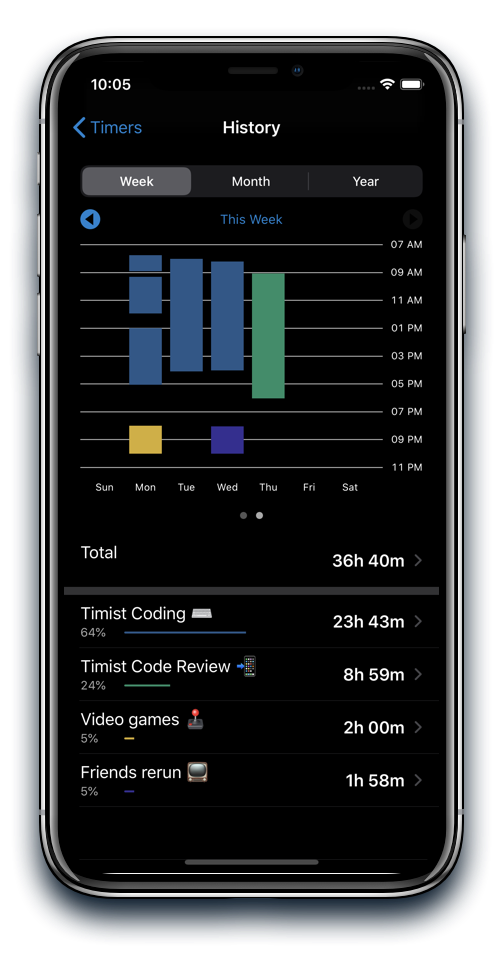 The new calendar view shows your sessions' position in the day - dark and light.
New
You can now check out your history in the new calendar view. Simply swipe left from the regular bar charts and get an overview of how your sessions are spread out across your days. More of a night owl than an early bird? It's never been easier to find that out.
Speaking of night owls, Timist's new Dark Mode makes it easier on the eyes in dark environments. For now, Timist simply follows the system setting - more customisation is coming soon!
Improved
The bar chart in the history view now correctly displays sessions that span multiple days. Previously, the entire duration of the timer would be displayed on the day the timer started. Now it can span multiple days.
The timer detail view now shows the total time of the current week instead of the trailing seven days to better reflect the bar chart (which only shows the current week).
Fixed
Fixed some layout issues on smaller iPhones (SE-size).
Fixed an issue where the history would not update when sessions where deleted.
Fixed a crash in Settings. UISearchController and iOS 13 don't like each other right now.
Fixed the display of total time on certain timers, where breaks would be counted as active time as well.